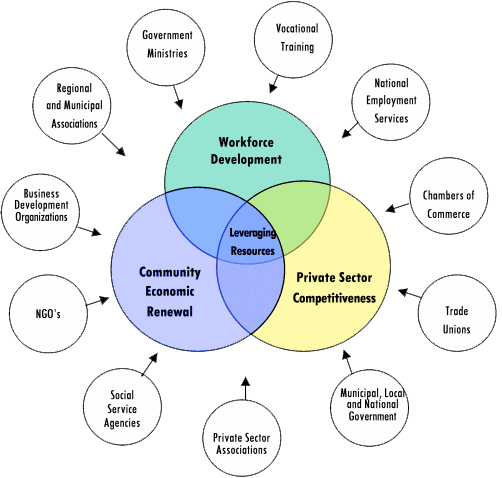 FEI Consulting, LLC provides practical solutions on a wide array of international development issues based on actual experience gained from working in more than 70 countries including virtually all of Sub-Saharan Africa, the Middle East, and East Asia. The FEI team has extensive experience in designing, managing, implementing and evaluating development projects, and providing advisory services to governments and is accustomed to taking experiences and lessons learned from other countries and working with the client governments to determine which of these experiences are applicable to that particular country and its set of cultures and institutions.
FEI Consulting, LLC is able to assist governments/donors to develop planning models that link sector activities to national policy goals and that enable sectors to better coordinate their respective plans across sector silos in order to maximize the combined efforts. This support strengthens accountability toward goals rather than activities, facilitates data-driven decision making and identifies the needs-driven capacity building. Finally, with a robust planning and coordination system in place, FEI can support governments to evaluate the impact of projects to ensure that the outputs/outcomes are consistent with the plans and the sector and national goals and objectives.
FEI Consulting, LLC experts have managed high-profile projects in foreign aid, international affairs, donor coordination, government reform, and private sector development in emerging and developing countries throughout the world. We have backgrounds in academia, development lending, urban planning, business strategy, ICT, and financial management. Our team designs institutional arrangements and systems for project management. FEI offers consulting services to organizations seeking to develop and/or strengthen institutional arrangements and operational policies. Furthermore, the team from FEI has experience working with national and sub-national governments in every region of the developing world on virtually every issue affecting decentralization, local government development, and service delivery.
Based in the metropolitan Washington area, FEI Consulting has expertise, both in-house and through a network of expert consultants and specialists, in the areas of:
Public Financial Management
Municipal Finance
Governance and Operational Risk Assessments
Integrated Financial Management Information Systems
Economic Analysis
Infrastructure and Urban Development
Sustainable Utilities
Institutional Capacity Development
Decentralization and Local Government
Public-Private Partnerships
E-government/E-governance